2 Sets of 3 finishing mower blades for Bush Hog 82325 ATH720/FTH720/RDTH72/TH72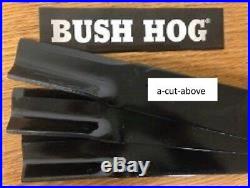 As per special request this listing is for 2 sets of 3 (6 total) brand new aftermarket replacement blades for Bush Hog 72 inch rear mounted grooming/finish mower models ATH720, FTH720, RDH72 and TH72. These blades are identical replacements for Bush Hog part number 82325 and are Made In The USA.
Each blade is 25 inches long, 2.25 inches wide. 250 inches thick and have a 1/2 inch center hole.