Set of 3 Aftermarket Blades Compatible with Contry Clipper 60 Cut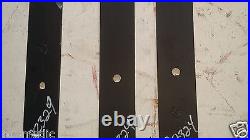 Replacement blades for Country Clipper 60" Cut Finish Mowers This listing is for three (3) replacement blades that fit 60" cut mowers. These are high quality boron steel balanced blades from an Italian company known for making a quality product. They are an OEM supplier for many brands of mowers and have been making blades for over 50 years , These balanced blades provide for smoother operation and longer life. These blades are 21" overall length, are 2-1/2" wide, 1/4" thick and have a 1/2" center hole, they have a lift area that provide 1-1/16" of lift over a 3" length on each side of the blade.
21 Cutting Edge Tip to Cutting Edge Tip. Balanced to Ensure Smooth Operation.
We sell replacement blades, belts, wheels and more for most brands of finish mowers. We are listing new items frequently so please check our store often. Your complete satisfaction is important to us, should you have and problems please let us know so we can correct them. If you have any question about the part you need, please call first we will be glad to answer your questions.
All parts are guaranteed to meet with your approval!