Titan Attachments 3 Pack 72 Finish Mower Replacement Blades, Lawn Care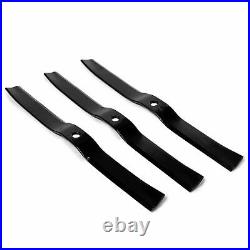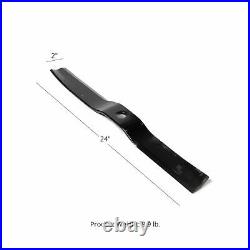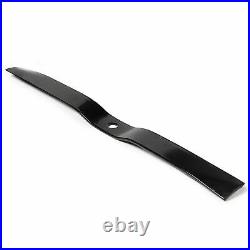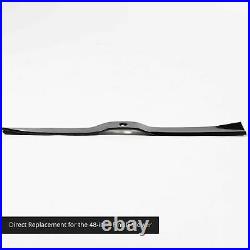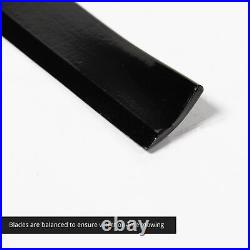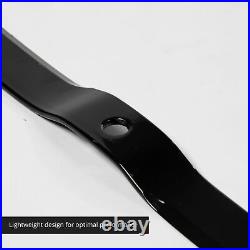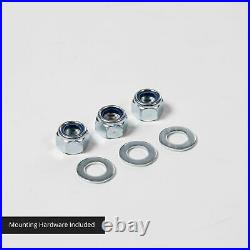 Titan Attachments 3 Pack 72 Finish Mower Replacement Blades, Lawn Care. The Replacement Finish Mower Blades are designed to replace worn-out cutting edges on the 6 FT Finish Mower. These high-quality balanced blades provide a smooth operation ensuring vibration-free mowing. It is good practice to check the blades each season to see if there are cracks, wear, and tear, or a loss and to fasten bolts that may have become loose. FEATURES: - Direct Replacement for the 72-inch Finish Mower - Blades are balanced to ensure vibration-free mowing - Lightweight design for optimal performance - Mounting Hardware Included SPECIFICATIONS: - Overall Height: 2-in. Finish: Powder-Coated Black - Material: 0.25-in Steel - Product Pack Weight: 8.9 lb. Titan Attachments Root Grapple Bucket 84 John Deere Global Euro Loaders. Titan Ramps 36" x 8" Aluminum Dual Shed Ramps with 4 Rung Spacing, Rated 750 LB. 9N4302 Long Bucket Teeth w/ Side Pin 9J2308 and 8E6259 Retainer CAT J300 Digging. Titan Attachments 3 Pack 48 Finish Mower Replacement Blades, Lawn Care.
When it comes to our company culture at Titan Brands, we've always followed one simple rule: provide our customers with the absolute highest quality of customer service that we can. Titan Brands got started by building up a hard-earned reputation, based around making sure that each customer will leave satisfied enough with their experience that they'll want to spread the news to friends and family by word of mouth. We remain fully committed to not losing sight of that reputation, and our team is always willing to accept the challenge of making sure that you not only walk away from your shopping experience satisfied, but that you'll look forward to coming back in the future. The Titan team believes that providing you with an exceptional level of communication and service regarding your order is just as important as providing you with the equipment and supplies you need. Our full-time teams of sales, support, and customer service representatives work in-house and around the clock to ensure that you won't have to worry about any aspects of your order once they're in our hands.
Simply place your order, and leave the hard parts to us; it's our job. We pride ourselves on providing a fully-featured, in-house customer experience from start to finish. In other words, we don't pass the buck once your order has been placed. That way, if there are any questions or concerns you might have about your order, our team is always a stone's throw away and able to quickly help.
We're always happy to answer any questions that you might have! As part of its evaluation of any claim, Titan may request that additional information be provided and/or may also request an inspection of the Product. Absent any agreement made in advance of any third party undertaking any work to repair any Product, Titan will not be responsible for any such expenses or costs.
Accident, damage, negligence, abuse or misuse. Improper assembly, installation and/or maintenance (if applicable).
A purpose or application in any way different from that for which it was designed. Dispute Resolution by Binding Arbitration. The parties agree that arbitration shall be conducted pursuant to the provisions of the Federal Arbitration Act, 9 U. And administered under the Commercial Dispute Resolution Procedures established by the American Arbitration Association (AAA). The parties agree that should a dispute arise regarding the scope of this arbitration provision, the question of scope shall be delegated to the arbitrator(s) for determination.
The arbitration proceedings and results are to remain confidential and are not to be disclosed without the written agreement of all parties, except to the extent necessary to effectuate the decision or award of the arbitrator(s) or as otherwise required by law. Feel confident knowing you can return an item for any reason up to 30 days after it has been delivered! Please submit your return request.
If you receive a product and need support understanding it's use or need support troubleshooting any issues you are experiencing, please reach out to us to ask questions or have us review videos or photos of your concerns. We will be more than happy to help! How long will it take until I receive my order. Many items are delivered in 3 days and most are delivered in 2 days, thanks to our warehouses in Fresno, California, Memphis, Tennessee and Horn Lake, Mississippi.
What if I need my order sooner. The item "Titan Attachments 3 Pack 72 Finish Mower Replacement Blades, Lawn Care" is in sale since Thursday, June 17, 2021. This item is in the category "Business & Industrial\Heavy Equipment, Parts & Attachments\Heavy Equipment Attachments\Mowers, Mower Decks & Mower Conditioners". The seller is "titanattachments" and is located in Collierville, Tennessee.
This item can be shipped to United States.
SKU: 191584
UPC: 840009220142
Brand: Titan Attachments
MPN: FM72BLADEPACK
Type: Mower
Color: Black
Material: Steel